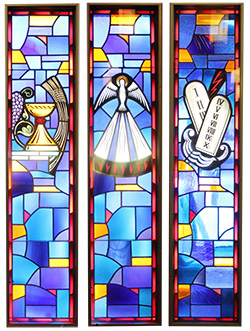 The Religious Education programs for both parishes meet three times each week from September until late April. In addition, St. Patrick's has a Divine Mercy Catholic School. If you would like to enroll your child in any program, contact the pastor or DRE (see parish addresses, e-mails, and phone below or in the bulletin).
For Religious Education, both churches have Kindergarten through 5th grades meet on Sundays. At St. Patrick's, classes begin immediately after the 8:30am Mass and end about 10:30am. At St. Luke's, classes begin at 9:30am and end at 10:23am to allow the children to meet their parents and prepare for the 10:30am Mass.
For both parishes, grades 6-12 meet at St Patrick's on Wednesday from 6:30pm until 7:45pm. Each class has a short break during that time.
Books are sent home after class with all students except 9-12th grades. This is to help the children and parents work through material at home when needed.
The Sacraments that are initiated during the Religious Education program are First Communion and Reconciliation in 2nd grade and Confirmation in 11th or 12th grade. Confirmation occurs every other year. There are calendars below for each of the three sessions. They contain additional information such as special meetings, dates for the Sacraments, and more.
Also below is a letter for parents that explains the Circle of Grace program.
Continue to stay in touch with your parish about changes in this schedule due to bad weather, etc.
ST. PATRICK'S GRADE SCHOOL CALENDAR, 2016-2017
ST. LUKE'S GRADE SCHOOL CALENDAR, 2016-2017
6th-12th GRADE CALENDAR, 2016-2017
FOR PARENTS: CIRCLE OF GRACE, SAVE ENVIRONMENT PROGRAM
---
Your amazing teachers this year that will help you learn and grow in your faith are:
Pastor: Fr. Joseph Sirba
Director of Religious Education (DRE): Deacon Jim Mostek
Asst DRE (gs/SP): Joan Scharf
Sub Asst DRE (gs/SP): Chester Gustafson
Asst DRE (hs): Mike Vaughan
Asst DRE (gs/SL): Peter Miller
ST. PATRICK'S
Kindergarten: Gail Von Rueden
Grade 1: Donna Sutton
Grade 2: Christina Keller
Grade 3: Julie Dillenburg
Grade 4: Janice Gustafson
Grade 5: Mark Sanford
Grade 6: Mark Kordiak
Grade 7: Kathy Reiser
Grade 8: Dave Auchter
Grade 9: Steve Odegard
Grade 10: Mike Bennett
Grades 11 & 12: Fr. Joseph Sirba
Confirm. Asst: Janice Graff
Substitutes (Grade School):
Tanya Christopherson
Katherine Bennett
Mary Odegard
Barb Johnson
Substitues (High School):
Lisa Hodena
Kayla Nelson
Dick Prenovost
ST. LUKE'S
Kindergarten: Melody Kosbab
Grade 1: Rose Becker
Grade 2: LaVerna Becker
Grade 3: Dawn Kosbab
Grade 5: Al Lewis
Substitutes:
Diane Miller
Nancy Mostek
Kayla Nelson